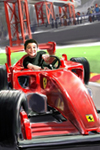 Ferrari World with transfer
Price from $ 160.70
Enjoy a day of fun and fast cars at the incredible Ferrari World in Adu Dhabi! Try the world's fastest roller coaster, Formula Rossa, and many more thrilling rides! The tour includes pick-up at your hotel in Dubai and to Ferrari World in Abu Dhabi.
Highlights:
- Skip the line to Ferrari World and save time
- Get free hotel transfer to/from Dubai
- Enjoy all of the amazing rides
- Try the world's fastest roller coaster - Formula Rossa
- Get a unique look into the world of Grand Prix

Visit the World's only Ferrari-themed Park
Each interactive experience at Ferrari World brings the Ferrari's story to life and lets you experience a priceless collection of vintage and contemporary Ferraris, adrenaline-pumping rides, and exciting learning attractions.

It's also at Ferrari World you can try the famous Formula Rossa, the world's fastest roller coaster!
With your tickets ready at hand and our convenient transfer service to Ferrari World, you're guaranteed an unforgettable experience at one of the most famous attractions in the Middle East, filled with exhilarating rides, behind-the-scene glimpses and fun for all ages.
How do I get my tickets?
Shortly after your booking is complete you'll receive your booking confirmation. Once you arrive at your hotel in Dubai you'll get your voucher for Ferrari World.

Where does the tour begin?
This tour includes hotel pick-up. You will receive a message with your pick-up time once you get to your hotel. Please be ready at the hotel lobby 10 minutes before your pick-up time.

Click here to see the approximate pick-up times for each area in Dubai.

Are there children's tickets available?
No, unfortunately, children's tickets are not available for this tour.

Since the tour includes transfer between your hotel in Dubai and Ferrari World in Abu Dhabi we are only able to offer the tour for one price for both children and adults.