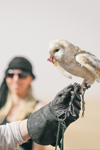 Evening Tour to the Desert
Price from $ 175.50
Experience Dubai as it was 50 years ago. Your experienced guide will pick you up and take you on an unforgettable journey to the desert in a museum-worthy vintage Land Rover. Spot exotic wildlife, visit a Bedouin camp, ride a camel, enjoy a dinner under the stars and much more.

Highlights:
- Enjoy a cultural trip to the desert
- Ride in a beautiful vintage Land Rover
- Spot exotic local wildlife
- Visit a Bedouin camp and enjoy a royal desert retreat
- Try various cultural activities
- Enjoy an amazing dinner under the stars

Enjoy a Cultural Trip to the Desert
This tour is like stepping back in time to Dubai 50 years ago. You'll get escorted by your local guide in a museum-quality vintage Land Rover. These vehicles were exclusively used in the 1950's and since then have become a part of United Arab Emirates' history. It's the perfect vehicle for exploring the desert.

Spot exotic local wildlife in the Dubai Desert Conservation Reserve, before heading to a Bedouin camp nestled inside a Royal desert retreat.

Here you'll experience a broad range of different cultural activities: You can get a ride on a camel, try henna painting, see the falcons, listen to traditional music and dance. You also get the chance to participate in bread making, so you can learn how to prepare a local recipe handed down from generation to generation.

The evening ends with a lovely dinner underneath the stars.

The tour is operated in English.

How do I get my tickets?
Shortly after your booking is complete your e-ticket will be sent directly to your email, just print it out and bring it on your tour.
Where does the tour begin?
This tour includes hotel pick-up. You will receive a message with your pick-up time once you get to your hotel. Please be ready at the hotel lobby 10 minutes before your pick-up time.

The pick-up times varies season to season due to the time the sun sets. Please see under opening hours.

Where does the tour end?
After your tour, you'll be dropped off at your hotel.

How long does the tour last?
The tour lasts approx. 7 hours.

What languages is the tour available in?
The tour is operated in English.

Is there a dress code?
The dress code for this tour is casual.

Are there children's tickets?
Yes, children's tickets are available for children between age 2-11. Children under age 2 are free when accompanied by a paying adult.